We have good news for you: a free Bible app specially made for Australians. Enjoy the best Bible of all time: the King James Version, the most accurate and authentic English version of the Bible.
It's wonderful to have the Bible at your fingertips! Download it and begin to read and practice the Holy Word of God!
Christianity is the major religion practiced in Australia. There are more than 61% of Australians counted as Christians. For much of Australian history the Church of England (now known as the Anglican Church of Australia) was the largest religious denomination.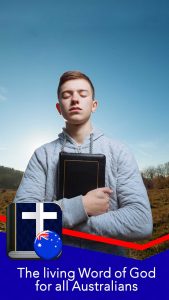 Millions of Australians are using a Bible App to make the Word of God a part of their lives. Enjoy this new app for free! Now the Bible can be read and shared more easily. You can download the Holy scriptures and read it everywhere, even off-line! Once you have the app on your device, you don't need an Internet connection.
Enjoy your version of the Bible in English, great for daily bible reading.
The Bible is an incredible book containing 66 books, written by different authors over 1500 years.
The following is a complete list of the books of the Bible:
Old Testament: Genesis, Exodus, Leviticus,  Numbers, Deuteronomy, Joshua, Judges, Ruth, 1 Samuel, 2 Samuel, 1 Kings, 2 Kings , 1 Chronicles, 2 Chronicles, Ezra, Nehemiah, Esther, Job, Psalms, Proverbs, Ecclesiastes, Song of Solomon, Isaiah, Jeremiah, Lamentations, Ezekiel, Daniel, Hosea, Joel, Amos, Obadiah, Jonah, Micah, Nahum, Habakkuk, Zephaniah, Haggai, Zechariah, Malachi.
New Testament: Matthew, Mark, Luke, John, Acts, Romans, Corinthians 1 and 2, Galatians, Ephesians, Philippians, Colossians,  1 Thessalonians, 2 Thessalonians, 1 Timothy,  2 Timothy, Titus,  Philemon, Hebrews, James, 1 Peter,  2 Peter, 1 John, 2 John, 3 John, Jude, Revelation.